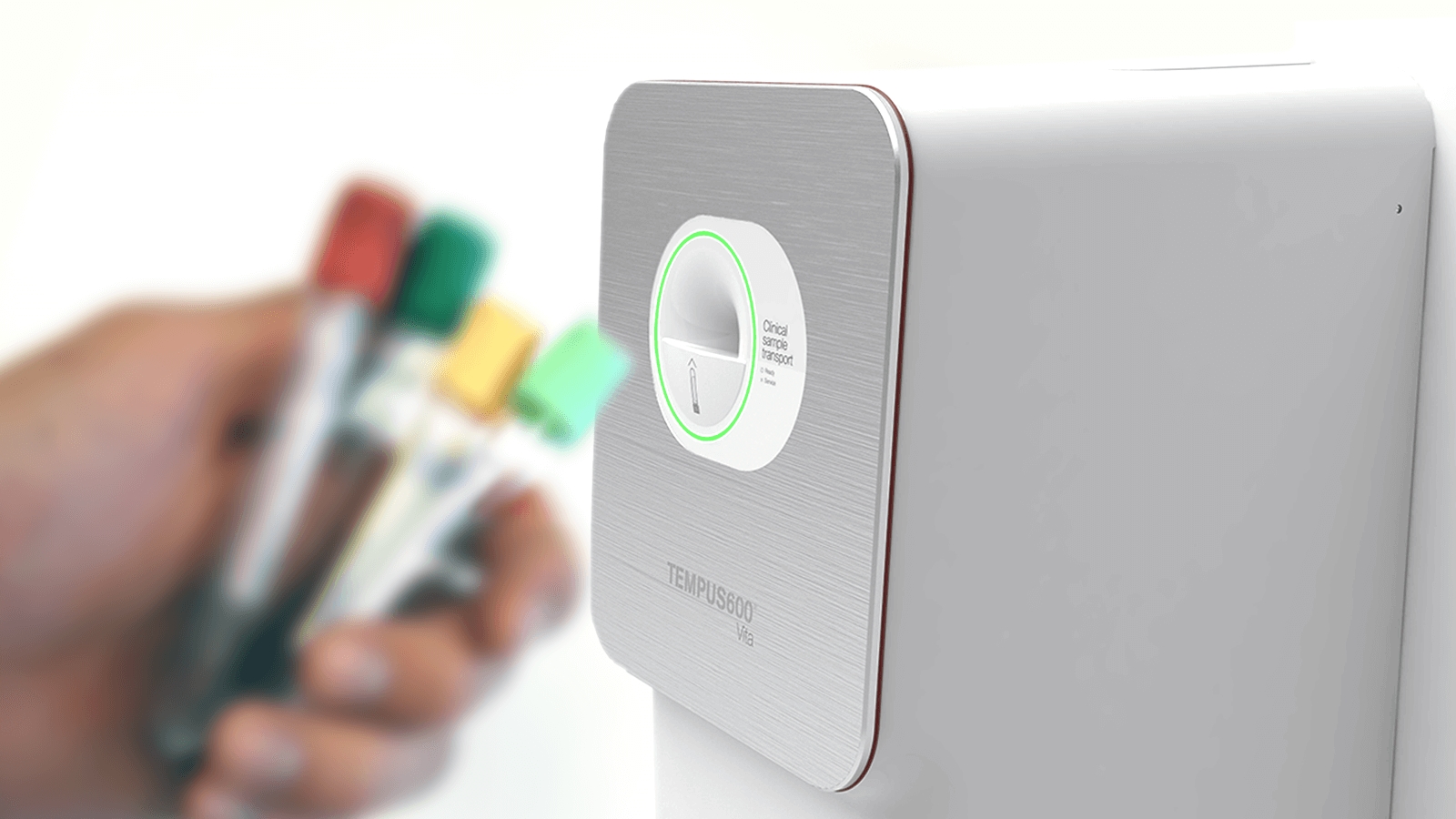 TEMPUS600 Vita
Blood sample transport containers
Blood sample transport containers are normally used in the traditional pneumatic tubing systems.The transport containers are necessary for the PTS system to transport the blood samples. Some blood sample transport containers have a design that enables the blood samples to enter the canister while batching the blood samples in the department.
Handling of canisters
Blood sample transport containers requires that samples are batched until a satisfactorily number of blood samples has been collected, but for the majority of these containers more handling of the samples and canister is needed. For most blood sample transport containers, it is required and necessary that blood samples are packaged in small plastic bags and then wrapped in a protective cover (such as bubble-wrap) before being placed into the canister. Now of course all of these handlings have to be undone again in the lab after arriving. i.e. opening the canister, unpacking it, unwrapping the protective cover, opening and emptying the plastic bag, and then manually registering the samples or placing them in a loading device.
The result of this is not only unnecessary waiting time (a real-time loss in production potentially creating bottlenecks in both the pre-analytics or analytics) but also a significant amount of unnecessary handling by staff (many times a day) – both of which are not only unnecessary but also expensive time-consuming activities that takes time away from the lab and hospitals ability to react swiftly to patient needs. This not to mention the cleaning of these blood sample transport containers or replacing them due to wear and tear, is an additional cost to consider.
Get better blood sample transport
One-touch handling
By implementing the Tempus600 Vita solution instead, not only are the matter of handling the samples and canisters removed, but the entire blood sample transport container is removed from the equation. You simply place the blood sample directly into the Tempus600 Vita solution and it is immediately send towards the lab, travelling up to 10 meters per second, where is arrives for example in a bulk loader from where it is automatically placed on the automation track. The result of which is one-touch handling, significantly improved ToTAT, and a faster response to doctors and patients.