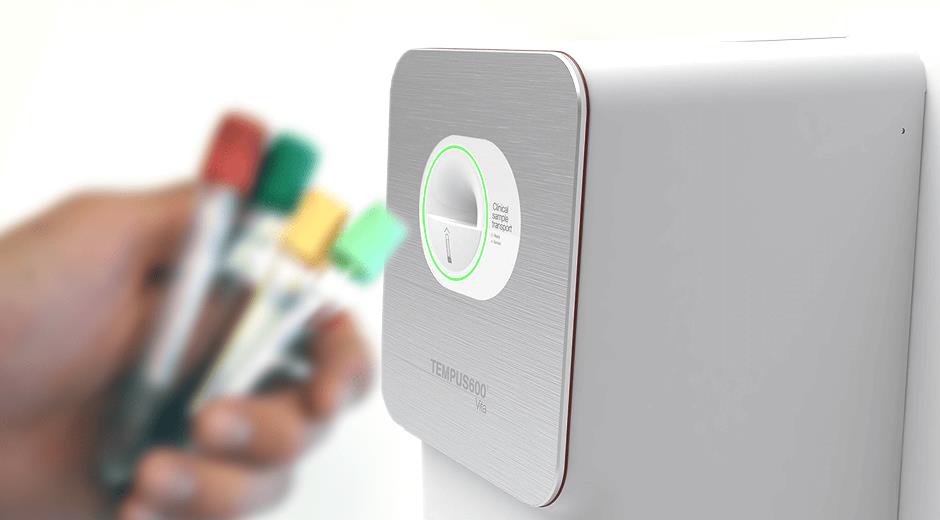 Blood transportation to the laboratory
Blood transport within a hospital is not an isolated component or routine action. It is a very important link in a larger logistic chain. Transportation of blood samples to the laboratory is an essential function within the patient diagnosis journey. When the transport is just in time, the lowest possible waiting time for the patient can be achieved.
Many hospitals continue to use big pneumatic transport tubes to reduce transportation time, but this method has weak areas: The human handling at both ends off the system and the waiting time of sending. As this is a centralised system, delays are caused when multiple areas are using the same "highway" without any priority system.
The dedicated system Tempus600 can ensure a maximum fixed transportation time. No handling of canisters, no waiting time for other transport, and no human in between the drawing of blood and the analyzing of blood - only the Tempus600. Blood transportation requires a fixed time e.g. 30 seconds from the sending in the ward to the receiving in the laboratory. Variation of time taken is removed and staff can focus on the analysis of the sample and sending the result to the doctors. That is why a dedicated blood transport system is essential.
Using the Tempus600 solution for the blood tube transportation not only improves the TOTAT and maintains the blood quality, but also savings for important KPI's such as time, money, staff and equipment resources.