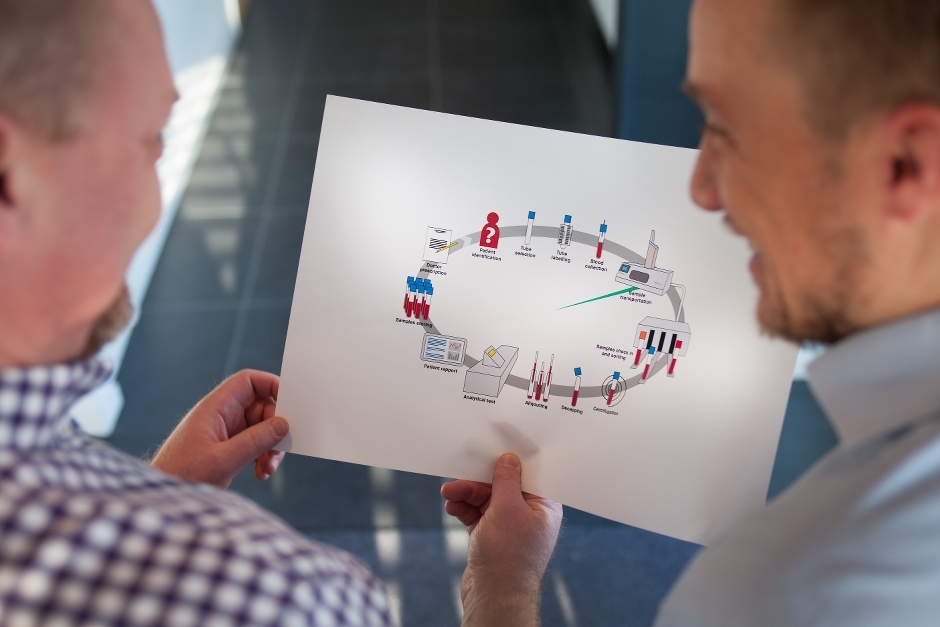 Lab turn-around time
The automation of laboratories has developed to optimize the processes by which hospitals analyse blood samples in order to save precious time, resources, and money.
Automation is a way for hospitals to capitalize on new technologies within the available equipment that can create new and improved processes – leading to crucial savings in today's hospital environment, which – unfortunately – is dominated by two forces pulling in opposite directions: budget cuts and increased demand and productivity.
Investing in means of automated laboratory systems will increase the productivity of sample testing, which leads to a significantly reduced process cycle time by the lab. In turn this can yield a higher degree of both efficiency and effectiveness in the lab. Thus, enabling the doctors to a quicker diagnosis, which can have spillover effects in reduced costs, such as the unnecessary cost involved in occupied beds, cleaning, food, or more importantly securing beds for patients truly needing to be committed into the hospital.
However, automation can start before the lab!
Decreased transportation time from ward to lab
Installing the Tempus600 system will significantly decrease a sample transportation time from the ward to the lab. Hence, Tempus600 further increases the already enhanced parameters and aims of the automated lab itself.
In the Tempus600 systems, a sample travels 7-10 meters per second. Samples are sent from the ward directly to the lab using no special containers. In the lab it is possible to connect the Tempus600 system with the bulk loaders or sorters of the automation system. This further increases both the efficiency in the lab and at the hospital in general. It enables even quicker responses and prevents unnecessary costs and resources spent on staff "transit-times". Instead ensuring valuable and competent staff, time and financial resources are used where they matter most.
Installing Tempus600 in conjunction with an automated lab system creates a "one-touch" per sample situation, since only the person drawing the blood is in direct contact with the sample until the analysis is complete. Therefore, operating costs are reduced, the risk of error due to human intervention is decreasing, and it yields the ability to provide higher quality data. Further, a positive chain reaction begins not only in the lab but from the moment the phlebotomist draws the blood all the way through to the doctor notifying the patient.
The capacity of each of the Tempus600 installations is several samples per minute, which in turn assures an even flow of samples reaching the lab; as opposed to the arrival of massive batches of samples. Another aspect could be the capacity of the equipment line: The initial investment in laboratory equipment could be smaller due to the reduction of sample queuing in peak hours.
As response times are lessened in the laboratory there are still several hands involved in getting to the lab. By combining the installation of a Tempus600 system with an automated laboratory, even more benefits, savings and better turn-around-times are realized.