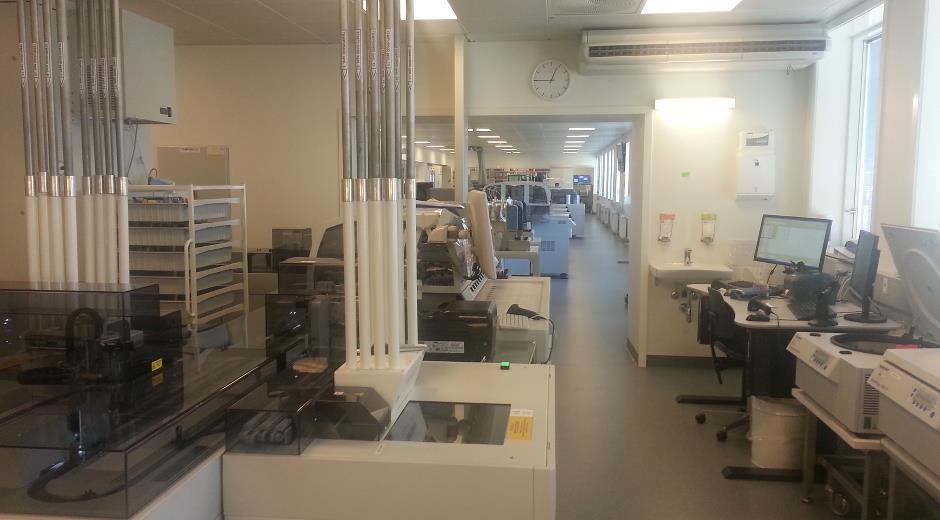 Laboratory solutions
Laboratory solution of today are multifunctional matters. They must be capable of handling the analysis of millions of clinical samples with focus not only on the result of the analysis but with due respect to safety, quality, working environment, advanced working processes and a constant view on costs per sample being analysed.
Every year the number of analysis in hospitals increase with almost a double-digit percentage and, consequently cost per analysis must be reduced as well. Thus high efficient laboratory solutions are key issue in hospitals of today.
The focal point in all solutions is "time". Less time spent per sample being analyzed lower the costs. From decentralized hospital laboratories with a number of smaller laboratories spread over the campus of the hospital, the trend moves towards central mega laboratories where essential competences of the laboratory staff can be used in an optimal way.
Learn to improve laboratory solution
Dedicated transportation system
A key element in efficient laboratory solutions is a dedicated transport system for clinical samples only. By transporting the samples directly from the ward to the automated laboratory systems, Tempus600 solution meets and supports the demand for cost reduction per analyzed sample. It also meets the requirements to safety, high quality blood tests, improved working procedures and optimal use of staff competences.