News
Fast, flexible transport system for high volume and urgent samples
Wednesday, October 7, 2020
Tempus600 Quantit is an innovative, flexible system for transporting small clinical samples in hospitals.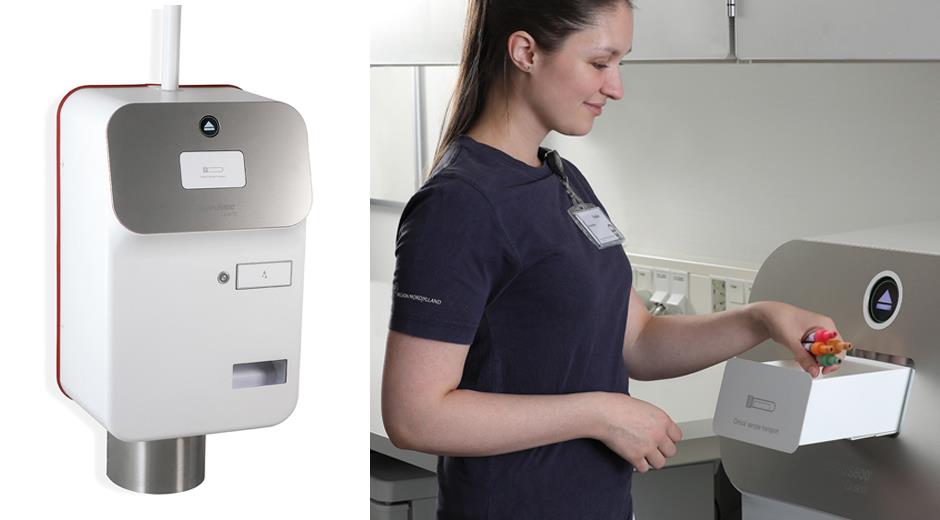 The system has been developed to cater for the need to dispatch several samples at the same time without any packaging. By sending the samples directly to the laboratory immediately after blood sampling, the workflow in the departments and in the laboratory is improved. The result is fast, predictable response times, better patient flow and treatment of patients can be initiated earlier.
Tempus600 Quantit is implemented in several hospitals, e.g. in busy departments such as emergency rooms and in blood sampling, where there are many users and a high throughput of samples. The flexible system can be easily set up and adapted to the departments' varying needs for transporting the samples.
Easy and user-friendly handling of samples
The user-friendly "Drop & Go" principle makes it easy and efficient for staff to submit samples. The user simply places the samples in the transmitter module and when it is closed, the system automatically begins to handle and send the samples individually to the laboratory.
Simultaneously and repeatedly up to 25 samples can be placed in the transmitter module at a time. The samples are placed unpackaged in the drawer and the system itself orients the sample tubes correctly before sending them.
For continuous sending of samples, the sample tubes are placed in the sending module and urgent samples are placed in the urgent module, which prioritizes and sends the samples before the other samples in the queue.
Non compatible samples are automatically sorted to the rejection drawer in Tempus600 Quantit. In laboratories with fully automated laboratory equipment, it minimizes the risk of error messages on the laboratory track system.
Software settings increases flexibility
The software in Tempus600 Quantit is adapted to the department's needs to send samples, e.g. continuous transport of high volume samples and transport of low volume urgent samples (STAT). Users can choose from four different options prioritizing between sending sample tubes as quickly as possible or that users can get rid of a relatively large amount of sample tubes in a short time.
More product information about TEMPUS600 Quantit
Return
Fast, flexible transport system for high volume and urgent samples;
/Default.aspx?ID=1111&newsid=228&Action=1&PID=4787