News
Opening of the new laboratory at the Danish Bispebjerg Hospital
Tuesday, March 3, 2020
Friday February 7th was the official opening of a brand new laboratory and logistics building at the Danish Bispebjerg Hospital, which has one of Europe's largest fully automated laboratories. The facilities will ensure higher quality for the hospital, with faster response times for analyses of the 10 million blood samples that the hospital's clinical biochemistry department currently needs to be able to process every year.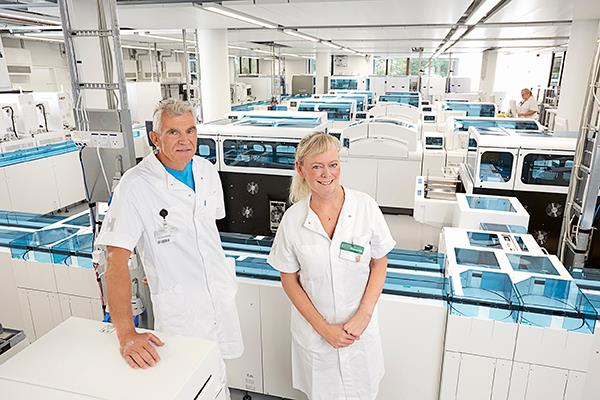 The new laboratory at Bispebjerg Hospital, Copenhagen. From from left: Jens Hannibal and Helle Brunsgaard Larsen. Photo: Claus Peuckert
As an important element in optimising response times, the hospital has installed Tempus600 transport systems for small clinical samples. With a total of 5081 m of tubes, they replace the time-consuming manual transport of samples from hospital departments and the sample reception area to the fully automated laboratory from Roche Diagnostics.
Stable, fast response times
Helle Brunsgaard Larsen, leading biochemist at the Department of Clinical Biochemistry, and Jens Hannibal, senior consultant, are in no doubt about the positive effects of the new developments at Bispebjerg Hospital.
With consistently fast response times, the Department of Clinical Biochemistry at Bispebjerg and Frederiksberg Hospital helps to make diagnoses faster. Patients are treated and discharged sooner, with a better overall flow throughout the hospital. Finally, clinical planning is strengthened, because for more than 300 different types of analysis, doctors in the specialist departments can rely on receiving results within an hour after the laboratory receives the samples.
"There is no longer any need to differentiate between Routine, Priority and Emergency samples, since all results for all priorities are available within an hour after arrival at the laboratory. The exceptions are just a few really critical samples, thrombolysis samples, which are carried by hand to the appliances, since results from these tests are needed within twenty minutes from arrival at the laboratory. Not needing to prioritize tests when they are ordered makes it easier for the clinics to order tests," Helle Brunsgaard Larsen explains.
Faster transportation of samples
Since 2015, Bispebjerg Hospital has implemented thirteen Tempus600 systems – eight Vitas, four Nectos and one Quantit– that send the samples in an even flow directly to fully automated laboratory equipment. Transport takes just one to two minutes, and the fast, predictable transport times combined with the efficient analysis process ensure that the response time is kept under an hour.
Here is a local television news item on TV2 Lorry about the laboratory at Bispebjerg Hospital: Blodprøvesvar på kun en time - Response time for blood samples is just one hour. Unfortunately, it is only available in Danish.
Return
Opening of the new laboratory at the Danish Bispebjerg Hospital;
/Default.aspx?ID=1111&newsid=240&Action=1&PID=4787