News
Sending station reduces processing time for blood samples with 75%
Monday, October 17, 2016
TEMPUS600 Vita sending station for blood samples is a revolution on the healthcare market. With the new sending station, the response time for blood samples is reduces with 75%. At the same time a safe and even treatment of samples is obtained. This results in more time for near patient work and better treatment.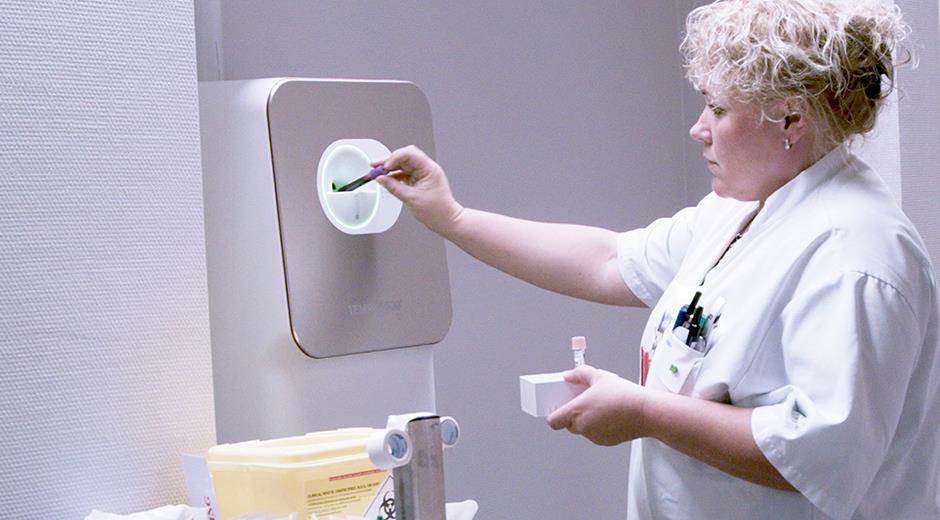 A GENIOUS SOLUTION THAT SAVES RESSOURCES
TEMPUS600 Vita makes it possible to work with a "One Touch System", where the blood samples are touched only once by humans. Part of the success is given the involvement of health workers in the development process and, thereof the intuitive use of the blood samples and sending station. When the blood sample has been taken it is easily placed in the sending station, which sends the blood samples by means of compressed air. The sample reach the lab in less than 1 minute and is landed directly on the automation line. This gives an incredibly safe and consistent handling of samples and saves an enormous amount of time in the total turn-around-time.
Rapid diagnoses
The uptime of the system is 99,8% - which means practically zero mistakes. At the same time there is a calculated averaging of 46 minutes and a maximum turn-around-time of 1 hour from the blood sample is taken till result is delivered for 95 % of the all blood samples. Thus, rapid diagnoses can be given to the patients, treatment of patients can be initiated faster and, patients can be discharged from hospital faster. In addition, the staff has more time to near patient work and expensive bed space is save, which is demanded all over the world.
Tempus600 Vita has been on the market for 9 months and is already installed in 22 hospitals in Denmark. Furthermore, it is available on 11 export markets including Scandinavia, Europe, and the Far East, such as China and Korea.
Return
Sending station reduces processing time for blood samples with 75%;
/Default.aspx?ID=1111&newsid=127&Action=1&PID=4787