News
The official launch of the new Tempus600® Necto at EuroMedLab 2021/2022
Monday, April 4, 2022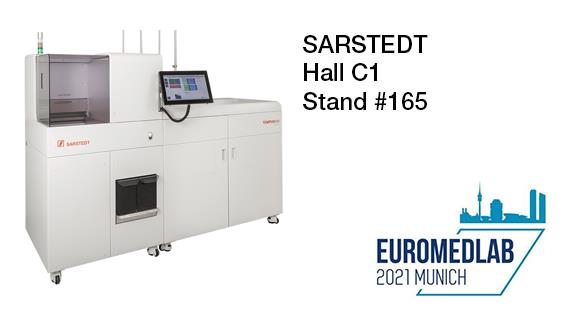 The new Tempus600® Necto is a strong, fully automated solution for the receipt, sorting, registration and transport of small clinical samples. The system can send samples to up to four external destinations, over a distance of 600 m.
With a great deal of pride, SARSTEDT will shortly present the Tempus600® Necto live at EuroMedLab in Munich in Germany.
Benefits of the new Tempus600® Necto
With its new streamlined design, improved throughput of 1200 samples/hour and extended options for registering samples, including communication with the Laboratory Information System (LIS), Tempus600® Necto can meet the needs and requirements of modern, fully automated hospitals and laboratories that want fast and reliable operation, and the optimal utilisation of their existing fully automated laboratory equipment.
The first Tempus600® Necto system has been implemented
Bispebjerg Hospital in Denmark implemented a Tempus600® Necto with two sending modules in July 2021.
Tempus600® Necto is located in the sample reception area and distributes the samples to the laboratory on the basis of predefined sorting algorithms, ensuring that the workload in the individual lines in the laboratory is evenly distributed.
Tempus600® Necto requires manning only when receiving samples from general practitioners.
Tempus600® Necto in action
Large amounts of internal or external samples are fed either manually directly into the Tempus600® Necto or automatically fed from the associated sender units via a fitted Tempus600® Connection Module. Tempus600® Necto sorts and registers the samples automatically using a predefined sorting algorithm or via communication with LIS.
Tempus600® Necto can be connected directly to all types of laboratory automation systems, sorters and bulk loaders, ensuring that samples are delivered in an even flow for further processing in the laboratory.
Despite Tempus600® Necto's large capacity and many options, it has a small footprint and can be installed in a relatively small space.
See the Tempus600® Necto live!
Visit the SARSTEDT stand at EuroMedLab, 11 - 13th April, hall C1, stand #165 and see a live demonstration of blood samples moved from the sample receipt area in Tempus600® Necto to the new fully automated SARSTEDT BL1200 SORT-CONNECT.
To learn more about Tempus600® Necto visit www.tempus600.com or contact us by e-mail, at info.dk@sarstedt.com.
Return
The official launch of the new Tempus600® Necto at EuroMedLab 2021/2022;
/Default.aspx?ID=1111&newsid=249&Action=1&PID=4787