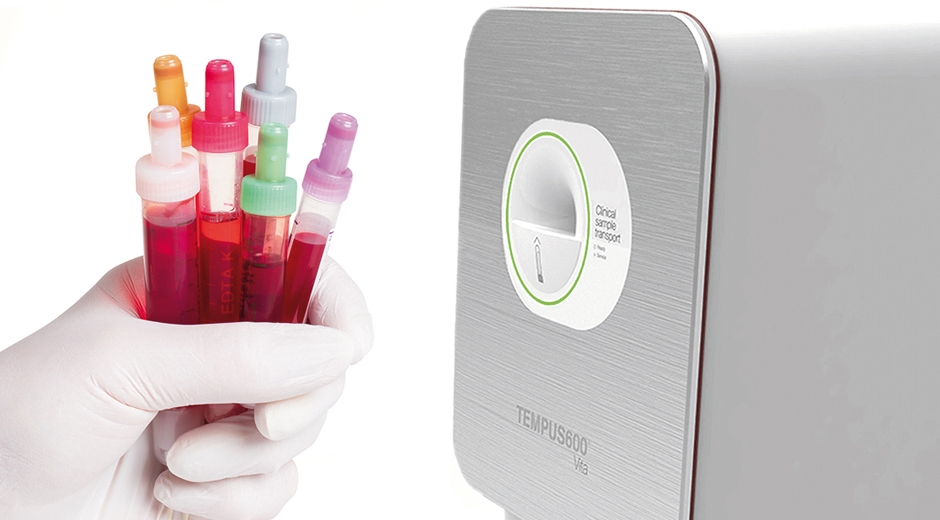 Automation of blood sample transport
Today's hospitals are looking for laboratory automation in order to improve the efficiency of the blood sample analysis process. Most hospitals work with the concept of turnaround time (TAT) when measuring their efficiency in processing blood samples.
But in order to improve the overall turnaround-time - from drawing the blood sample at the point of care to the analysis result is given to the doctors - you need to look at the complete process.
Tempus600 provides automatic transport of blood samples from point of care to the laboratory. The result is a crucial reduction of ToTAT - the Total Turnaround Time.
Learn more about automatic transport of blood samples
Automatic transport of blood samples
The optimal laboratory solution reduces the need for manual work and monotonous activities and the risk of errors. It also reduces the processing time for each sample, resulting in a substantial productivity gain for the laboratory.
An automatic sample transport system ideally transports the samples directly to the appropriate analysis system and, while doing so, performs other tasks along the way: following delivery, the sample identification can be used to plan and optimize the route through the laboratory, whereby many parameters can be taken into account, such as the type of container, the preparation, the filling level and, of course, the sequence of the individual analysis steps. For the duration of the analysis and the evaluation, all samples currently to be processed should then remain accessible, whereby several hundred samples are ideally underway in the distribution system simultaneously.
Analysis can then quickly be repeated, or additional analysis can be performed, and any subsequently necessary assessments undertaken. Upon completion of the analysis, the samples should be automatically ejected, disposed of following a storage period of a couple of days, or, if necessary, transferred to a suitable container for long-term archiving.
Get automation of blood sample transport
Fastest analysis results and better treatment
The automatic transport of blood samples with Tempus600 shortens the processing time for blood samples and provides the fastest analysis results. Furthermore, it frees up competences for the staff, so doctors and nurses have more time to care about their patients.
This unique solution is a dedicated one-touch system that transports blood samples from point to point. At the point of care the blood samples are easily placed in the sending station, Tempus600, which shoots off the tubes by means of pneumatic air, through a narrow transportation line (diameter 25mm) and sends the samples directly to the laboratory. It is fast, safe, and reliable because it demands no extra handling, samples are sent as they are, no impact on the blood values and it is very simple to use the system.