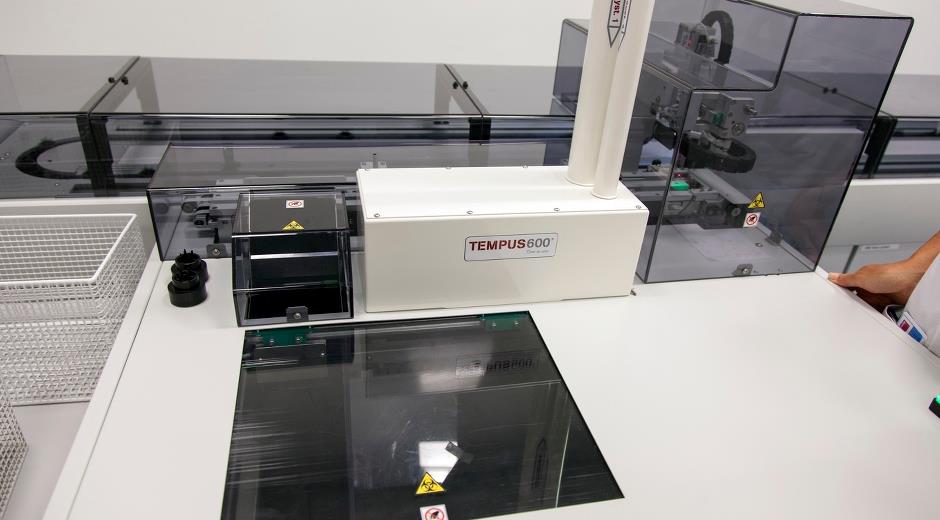 Lab automation
The primary objective of automation of laboratories is to optimize the processes by which hospitals analyse blood samples. It enables hospitals to capitalize on technologies in the laboratory equipment that enable new and improved processes.
Lab automation increases productivity
Automated laboratory systems increases the productivity of sample testing and hence significantly reduces the process cycle times of the lab. Essentially this yields a higher degree of both efficiency and effectiveness in the lab. The positive results from traditional lab automation are realized from when the blood sample reaches the lab and to the results assisting the doctor to make a diagnosis.
As response times are lessened in the laboratory there are still several hands involved in getting the samples to the lab. By combining the installation of a Tempus600 system with an automated laboratory, even more benefits, savings and better turn-around times are realized.
The positive chain reaction
An installation of the Tempus600 system will significantly decrease the blood sample transportation time and hence increase all the positive variables and aims of an automated lab. The operating cost are reduced, the risks of error due to human intervention decreases, and it yields the ability to provide higher quality data. Further, a positive chain reaction begins not only in the lab, but from when the phlebotomist draws the blood all the way through to the doctor notifying the patient.
The fastest way to the lab
The sample travels 7-10 m per second from an area close to the point of drawing the blood directly to the lab or even into the automated system, further increasing the efficiency of both the lab and hospital, providing quick response times and ensuring that unnecessary resources are not lost on "staff-in-transit". It means that valuable and competent staff resources are used where they matter the most.
The capacity of each Tempus600 installation is several samples per minute, which in turn assures an even flow of samples reaching the lab; as opposed to the arrival of massive batches of samples. A spillover effect of this could be: that the initial investment in laboratory equipment could be lesser due to less sample queuing.