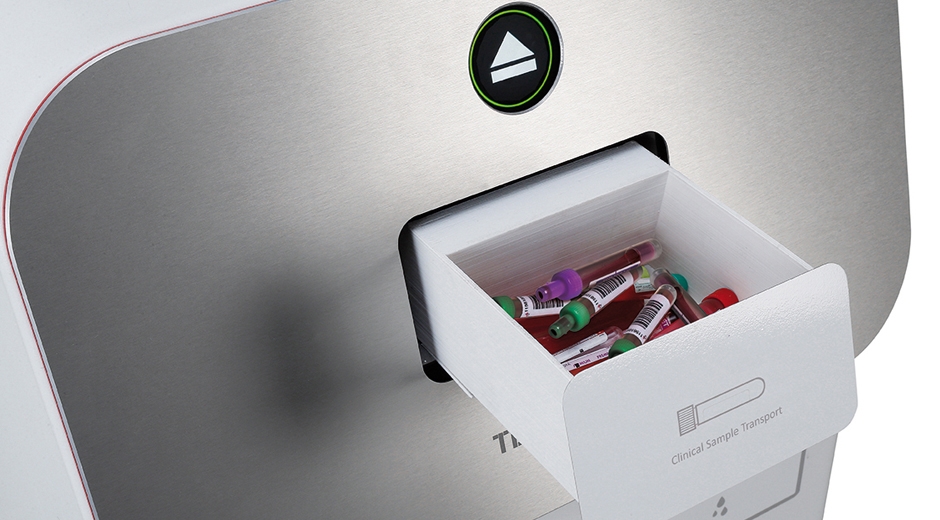 Pneumatic transport of blood samples
Pneumatic transport of blood samples is an alternative solution to personal transport where staff or porters carry samples from the ward to the laboratory. A pneumatic transport system is an effective way to solve internal logistics with blood sample transport in hospitals all over the globe. Today, hospitals witness an annual increase of 7-10 % in the number of samples being taken, consequently, alternative solutions to manual transport must be implemented.
Traditionally, pneumatic transporting systems have been used for transporting a broad variety of materials, such as documents, surgery instruments, blood samples, etc. However, one of the challenges with a "one fits all solution" has been that nothing is prioritized and especially the vital transport of blood samples is being challenged with delays, waste of time waiting for pods, impact on blood quality, unnecessary time wasted on filling and emptying pods, etc.
From a technical point of view, some of the old and traditional pneumatic transport systems require a lot of space. Because of the continued focus on cost savings and LEAN production in hospitals, new inventions, and technologies for transporting blood samples, have been developed and successfully installed in many hospitals globally.
Learn more about pneumatic transport of blood samples
The new system eliminates previous challenges
One of the new inventions, Tempus600, has solved the previous challenges transporting blood samples in pneumatic systems. This system is based on a small 25 mm pipe that is dedicated to sending blood samples. A dedicated system that only takes care of sending blood samples from the wards to the laboratory. The Tempus600 solution eliminates previous problems with a system used for many different items. It is like a strict pathway sending the blood sample from the patient to the laboratory without interference, no cross points, and no time wasted for filling/emptying pods.
Previous studies have shown that vital time from staff is being lost, only waiting for pods to arrive. This issue has now also been eliminated as the blood samples are inserted directly into the sending unit. In many hospitals space requirements are challenged, however, with the new technology only limited space is required both for the sending unit, but also at the receiving end in the laboratories. This invention dramatically reduces the turnaround time in laboratories and gives even better treatment to patients.