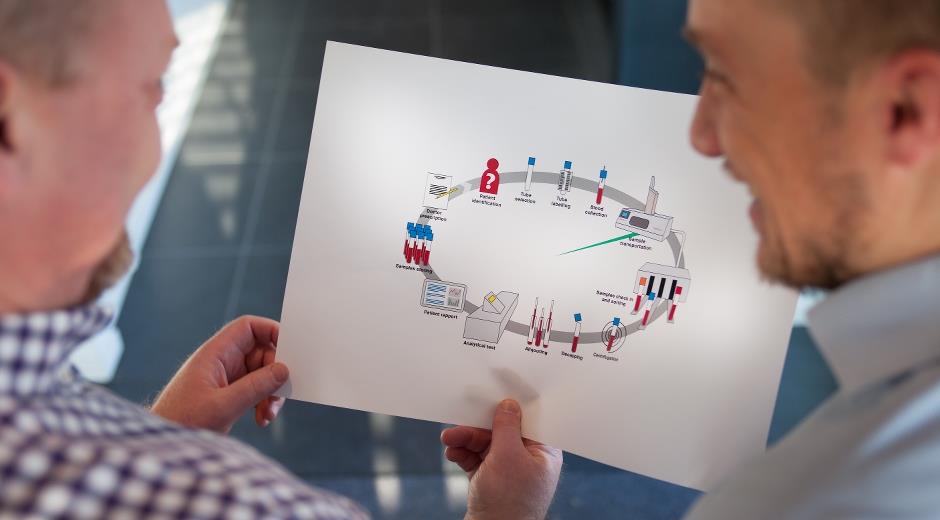 Turn-around-time in laboratory
One of the hottest issues in a clinical sample way of thinking is TAT = Turn-Around-Time. Often the TAT is measured only in the clinical analyses in the lab, but now the TAT is including all the phases from request at the ward to the doctor get the analyze. It starts when the first request is made. A nurse or phlebotomist then identify the patient and draw a blood sample. Next stage is to transport the sample to the lab, and register the sample in the lab. Thereafter, the sample is being analyzed and finally the result is send back to the doctor.
If you look at the analytical time in the total Turn-Around-Time there is an average of 20 - 30 minutes. But very often hospitals have Turn-Around-Times for more than 1 - 2 hours - how can that be? Very often the hospital are looking into the analytical time and investing money for gaining some minutes or seconds! Very often the problems are in the logistical transport between the ward/blood collection room and the lab. There is very often a big variable in the transport time if it is done by a porter/courier or the phlebotomist need to carry it to the lab.
Use a decicated transport system - effective TAT
Some hospitals have tried to use the old pneumatic transport systems, but the system is not build for blood samples and the results can be hemolysis (proven in article by clinical chemistry) or mechanical challenges. Another way could be to use the dedicated transport system Tempus600 whom without any packing or any programming sends the samples directly from the ward to the lab within samples and without errors or hemolysis. Then the Turn-Around-Time normally can be maximum 1 hour but very often around ½ hour. If hospitals then connect it directly to the TLA (Total Lab Automation) they will then have no risk of wrong delivery - this is effective Turn-Around-Time. The circle of TAT is closed!
So if the lab is "extended" to all the different wards there will be no priority, no risk of wrong delivery, no hemolysis and no waiting time because everything will arrive in FIFO-principle and with no second hand touch.