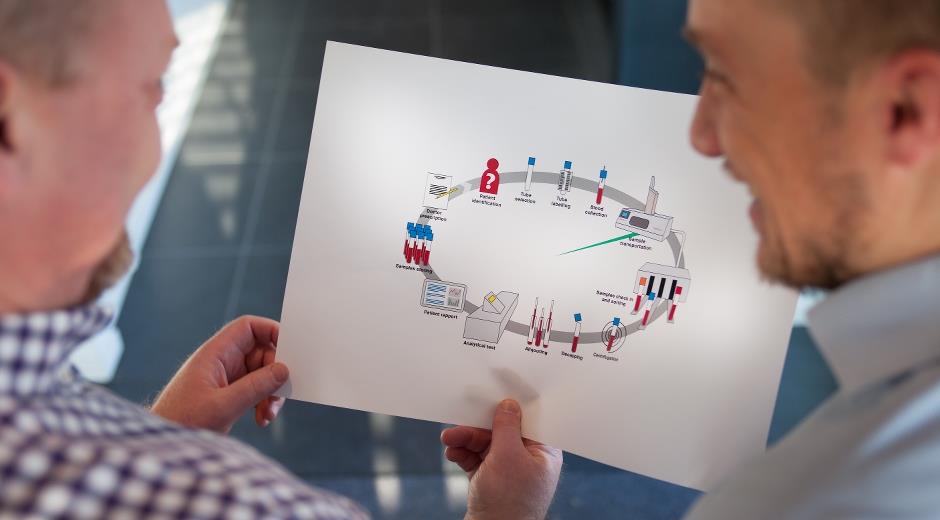 Turn-around-time in laboratory
A hot issue in clinical chemistry is Turn-Around-Time (TAT) in the laboratory. Often the turn-around time is measured only in the clinical analyses in the lab, but today the TAT includes all the phases from request of the samples till the doctor receives the test result. The process is initiated when a request is made. A nurse or phlebotomist identify the patient and draw the blood sample. Next stage is to transport the sample to the laboratory, and register the sample when it arrives in the laboratory. Thereafter, the sample is being analyzed and finally the result is sent back to the doctor.
The average turn-around-time for blood samples in the laboratory is 20 - 30 minutes. But very often the total processing time takes 1 - 2 hours. Some hospitals try to reduce their turn-around time by investing money in optimizing their analytical equipment in order to gain some minutes or seconds. But often the problems are due to the logistical transport between the ward/blood collection room and the laboratory. There is a huge diffence in the transportation time when blood samples must be carried by a porter or the technical bioanalyst.
Get a better turn-around-time in laboratory
Use a decicated transport system - effective TAT
Traditional pneumatic transport systems are not dedicated to transportation of blood samples only. Consequently the results can be hemolysis or delays due to mechanical challenges. Alternatively the transport system Tempus600 can be used. It offers dedicated, individual transportation of blood samples directly from the ward to the laboratory. The samples are placed directly in the inlet of the sending station - no packing and unpacking of samples, no delays, errors or hemolysis. Hence the total turn-around-time can be reduced to maximum 1 hour and approximately ½ hour for critical samples. If the hospitals choose to connect Tempus600 directly to the TLA (Total Lab Automation) the circle of the the total turn-around-time (ToTAT) is closed!
So by means of Tempus600 system, the laboratory can be "extended" to all the different wards and there will be no priority, no risk of wrong delivery, no hemolysis and no waiting time. The samples only needs to be handled once and they will arrive in according to the first in - first out principle.