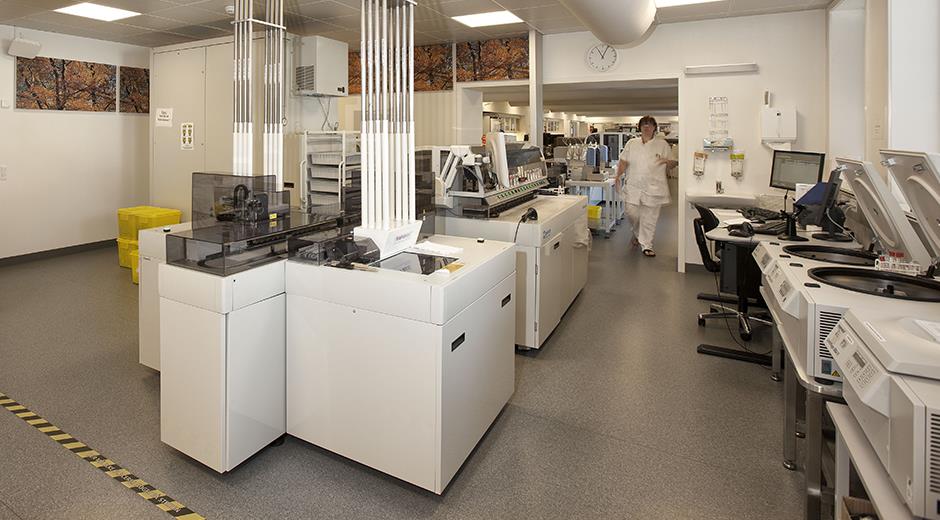 Automation of blood tube transport
Automatic transportation of blood tube samples, is gradually becoming an essential part of hospital logistical solutions in today´s hospital environment.
Hospitals are looking for means to improve efficiency in order to reduce the turn-around-time (TAT).
See all the advantages about automation of blood tube transport
Improved efficiency
Increased laboratory automation is one way of improving the efficiency of the blood sample analysis process, however, it is important to focus on the complete process from when the sample is drawn at point of care, and how blood tube samples are being transported to the laboratory.
Pneumatic transport systems using 25 mm transporting pipes provide automatic transportation of blood samples from point of care to the laboratory. The result is a crucial reduction of the total turn-around time – in short the "ToTAT".
Improved effectiveness
Automated laboratory systems increase the productivity of sample testing and hence significantly reduces the process cycle times of the lab. Essentially this gives a higher degree of both efficiency and effectiveness in the laboratory. As response times are reduced in the laboratory, there are still several hands involved in getting to the lab. By combining the installation of a 25 mm. Pneumatic transport system with an automated laboratory, even more benefits, savings and better turn-around times are realized.
Increased productivity
The combination of 25 mm pneumatic logistical systems and automated laboratory equipment will significantly decrease the blood sample transportation time and hence increase all the positive variables and aims of an automated lab. The operating cost are reduced, the risks of error due to human intervention decreases, and it gives the ability to provide higher quality data.